Secrets to Finding Ancestors Who Need Temple Work
Hear our experts share tips on finding ancestors who need temple work—even if your direct line is done!
Three Ways to Find Ancestors Who Need Ordinances

Follow the lines of your family tree back.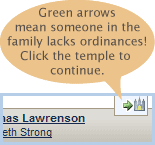 Look at the whole family—aunts, uncles, or cousins may need temple work.